Review: Death Wish (2018)
I feel I should preface this review by stating that I enjoy many of the films of director Eli Roth. They're not masterworks by any degree, nor are they bold or confronting pieces, they're genre flicks. That's what Eli Roth does, he makes genre flicks, and that's what he's done with Death Wish. A remake of the 1974 Charles Bronson film of the same name, it follows the same basic plot its predecessor with a few changes, such as a shift of scenery from Manhattan to Chicago, and a job change for the lead, Paul Kersey, an architect in the original now a trauma surgeon. In both films, his wife is killed and his daughter is grievously injured by hoodlums, which pushes the mild mannered Kersey to take the law into his own hands. The differences come from the style more so than the scant substance, and this film struggles to be stylistically fresh.
One of the main problems that Eli Roth has as a director is a lack of a distinct style, and that lack of a cohesive visual element is painfully present in the film. The action is good; it's punchy, it's bloody, and it's not unnecessarily elongated to pad the film out, so every gunshot looks and feels just like a gunshot should. There's a campy element to some of the later violence, standouts include Kersey hitting a man over the head with a Guitar (a B.C. Rich Warlock no less) and crushing another guy under a car as his brains explode all over the floor. What's more, with the film being R rated, the camera doesn't shy away from showing any of it. The issues arise whenever Kersey isn't killing someone, during which the film looks just like any other modern action movie with the same flat lighting, the same dull colours, and the same jerky camera making everything look, well, the same.
Bruce Willis' performance as Paul Kersey is everything that we've come to expect from him in so much as he looks and acts like he's incredibly bored. Charles Bronson wasn't leaping all over the frame in the original, but at least he seemed laconic instead of being plain un-enthused. The flatness that Willis exudes in every scene makes for a lot of comedic moments, but I felt as if I was laughing at the film rather than with it. The supporting cast, much to the opposite, are actually fairly good. Dean Norris is not given much to work with in Detective Raines, but he makes it work and does a good job portraying Raines as a sympathetic character, and Elisabeth Shue is also quite good despite her limited screen time. Most of the heavy lifting is done by Vincent D'Onofrio, in an impressively emotional performance playing Kersey's brother Frank who was seemingly brought in to the film be Willis' acting double.
Much like the first, the film pays a lot of lip service to the debate behind the ethical debate of vigilante justice while wholeheartedly supporting it with the narrative. There's a lot of radio and T.V Footage spliced within the film that directly asks "Is it good or bad to shoot criminals?" but the rest of the film has none of it, essentially high five-ing the lead with cool one liners every time he kills someone. He sources most of his information on guns and destroying evidence from YouTube videos, which could have lead somewhere but instead is just treated as if it's completely fine. The film could have been an interesting deconstruction of the twisted morality of the original but instead decides to mimic it's vigilante worship. With that, Death Wish loses any originality it might have had, and despite it being fun enough action schlock, the flat visuals essentially give no reason to watch this film over the original.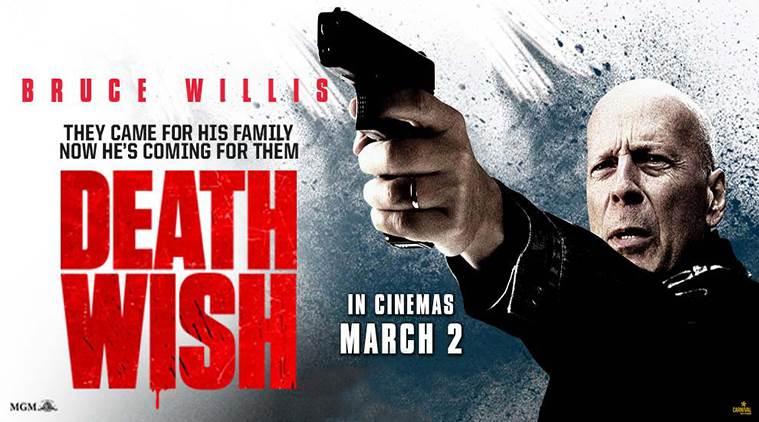 2.5